Recover lost Photos, Videos, Audio Files using Stellar Phoenix Photo Recovery.
Photos are your memories, it reminds you of the past that was captured to be preserved. But when those photographs are lost or deleted, it leaves you in a helpless situation. Stellar brings back your smile in such a scenario.
Stellar's Photo Recovery software recovers your lost and deleted photos, videos & music from corrupt, damaged Cameras, Hard Drives, Memory Cards, Flash Cards, Mobile Phones, and USB Drives and works on Mac and Windows

system.
You can install the software Stellar Photo Recovery and opt for trail version to see if it does what it says and then you can opt for various purchases including offers they are providing to the customers.
Steps to Recover Files:
Download the software for both Windows or Mac from the above given link and install it on your device.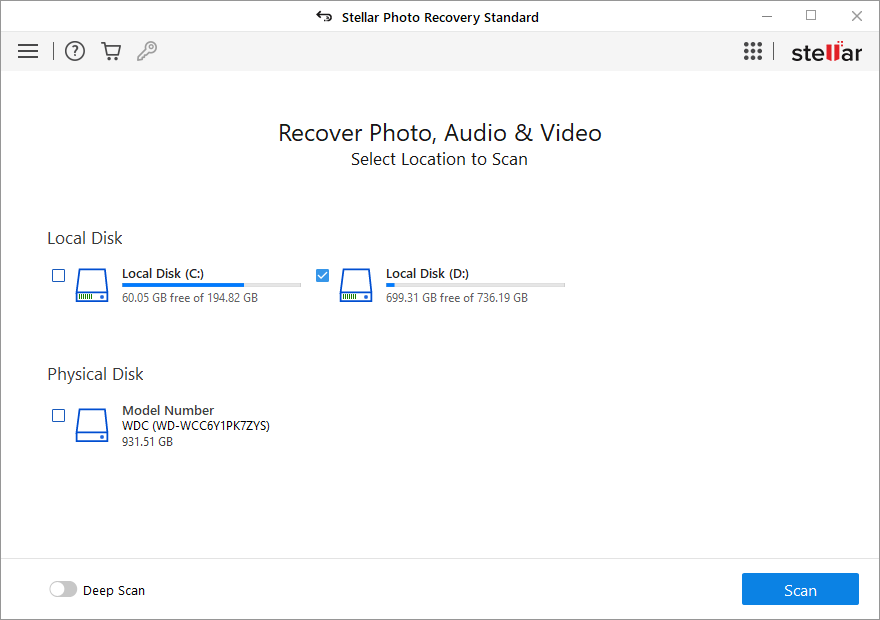 When you launch your device the following window pops up and you need to select from the options to recover the photos.
When you choose the first option for recovering files the following window comes up, where you have to choose from which drive you want to recover the files.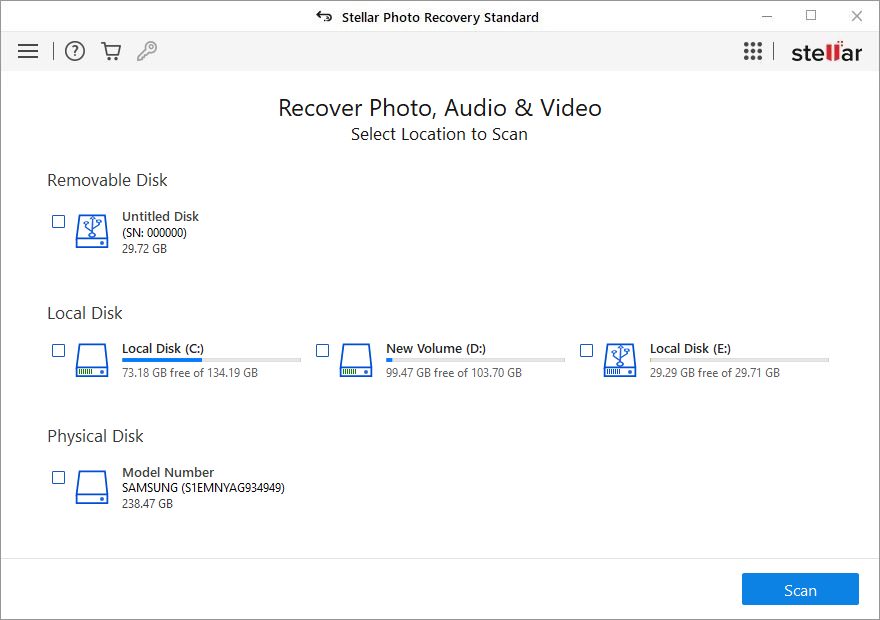 There is no limit on size, you can choose any local drive or you can scan the entire hard disk by clicking on "Physical Disk".
You can select a specific region (starting and ending sector) from the Advanced Settings option and click on scan now to start the scanning process.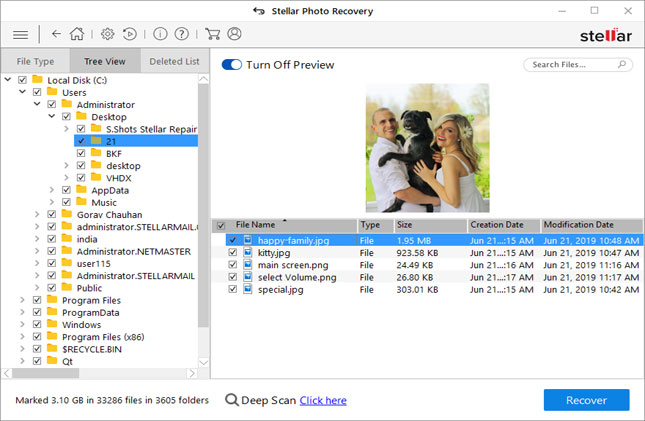 You can even skip this option to get right into recovery.
When the scan is completed the following window shows up depending on your PC and you go into further folders to choose the file from the location.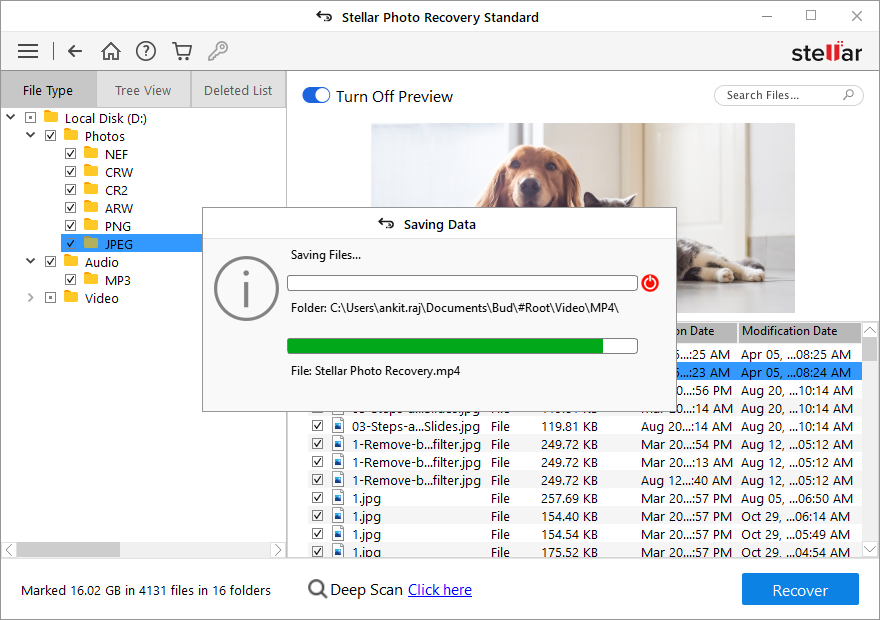 After the required photo is found, click on the "Recover" button and the file is recovered locally in your Hard drive at the same location.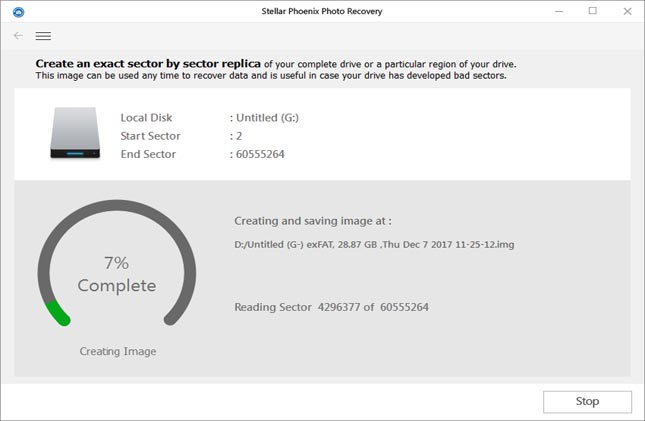 Its a simple and user friendly software to recover the lost memories and exactly does what it says without any errors in the extracting process.
You can also scan Memory card or external hard drive when connected to PC and make the recovery process in the same way.
Special Features:
What it Recovers?
Photos: Recover accidently or intentionally deleted, and even corrupt photos after all instances of DATA LOSS.
Audio: You can easily get back your songs, karaoke music compositions or any other lost and deleted audio files.
Videos: Recover lost and deleted HD videos along with previews, without compromising on visual quality.
From where it Recovers?
Cameras: Efficiently recovers pictures from any make of digital cameras including Canon, Casio, Fuji, Kodak,
Nikon, Olympus, Panasonic, Samsung, Sony and many more. This tool also supports RAW recovery of images
from
SLR cameras.
Memory Card Recovery: Recovers lost pictures and multimedia files from Memory Cards, Flash Cards, SD
Cards, CF Cards, Mini SD, Micro SD, XD Card or any other card type.
Hard Drive: Improved engine helps in successfully recovering multimedia images even after formatting internal
& external hard drive. The tool supports hard drives > 2 TB.
What Files it Recovers?
Updated file format support Casing: Updated support for various photo, audio & video file types like JPEG,
PNG, BMP, GIF, Tiff, Minolta (MRW), Nikon
(
NRW), Nikon (Nikon), WAV, WMA, MIDI, M4A, AVI, WMV, MP4 etc.
Audio File Format: All available formats like AU, MIDI, MP3, RPS, Sony ACD, WAV, WMA etc.
Video File Format: All available formats like GOM, iTunes, MP4, MPEG, MOI, MOV, VLC, 3GP etc.
Other Features:
Recovery with Actual File Names: Now recover your deleted photos, music & videos with the original date, time-stamp, camera model / name, resolution and file name.
Improved Advanced Scan: New improved scan engine is now up to 30% faster. Speed up the scanning time by selecting only specific file types for search and therefore report results quicker.
Extract Thumbnails: Now extract thumbnails of severely corrupt image files so that you can prevent complete loss of a particular file.
Convenient File View: Stellar Phoenix Photo Recovery now shows your deleted recoverable files in 4 different views: Icon View, Cover Flow View, Detail View & Column View that makes file preview simple and easy.
To know more about the software and its features, visit Stellar Data recovery
Read Also: