TOP 10 CHROME EXTENSIONS FROM GOOGLE ITSELF.....
Extension is an extra feature which helps in browsing internet more easy and helps in different ways in functioning their perspective features .Now here are the top 10 extensions which i found interesting and are created by Google itself chrome .
1) Chrome Remote Desktop:
-------------------------------
Access other computers or allow another user to access your computer securely over the Internet.Chrome Remote Desktop allows users to remotely access another computer through Chrome browser or a Chromebook. Computers can be made available on an short-term basis for scenarios such as ad hoc remote support, or on a more long-term basis for remote access to your applications and files. All connections are fully secured. Chrome Remote Desktop is fully cross-platform. Provide remote assistance to Windows, Mac and Linux users, or access your Windows (XP and above) and Mac (OS X 10.6 and above) desktops at any time, all from the Chrome browser on virtually any device, including Chromebooks.
This is much helpful when we find a problem in our computer and you can use other PC's chrome to resolve the issue browsing on the other computer using this extension.
It is indicatedby the symbol on the chrome extension bar by :
We can download from chrome store
2)Personal Blocklist:
--------------------------
Blocks domains/hosts from appearing in your Google search results.The personal blocklist extension will transmit to Google the patterns that you choose to block. When you choose to block or unblock a pattern, the extension will also transmit to Google the URL of the web page on which the blocked or unblocked search results are displayed. You agree that Google may freely use this information to improve our products and services.
Best one to avoid unnecessary sites which are spam and comes in our way while we browse.
3)Data Saver:
------------------
Reduces data usage by using Google servers to optimize pages you visit.Reduces data usage by using Google servers to optimize pages you visit. Browse more for less! 

By enabling this extension, Chrome will use Google servers to compress pages you visit before downloading them. Pages accessed using private connections (HTTPS) or in incognito tabs will not be optimized or seen by Google. Get more visibility into your data usage by clicking on "Details" to see how much data is used by the sites you visit. This might help you make more informed decisions regarding your usage based on the type of connection you are using. 

 You can also enable Data Saver on Mobile Chrome on Android from the Settings menu.
4)Search By Image:
-------------------------
This extension allows you to initiate a Google search using any image on the web. By the Google Images team.Found an image on the web that you're curious about? With this extension, you can initiate a search on Google using pictures on the web. You can discover photos of places, learn more about art pieces, identify landmarks, and more.To use this extension, right click on an image on the web and select "Search Google with this image." You can also add a clickable Search by Image icon that appears when you point to an image. When you search by image, you'll see results that show you where that image, and similar images, appear on the web. You can see webpages that contain that image, or find the same image in different sizes or resolutions.
For an image to know about its information or the similar image we can just click on camera button image
5) Google Translate:
---------------------------
View translations easily as you browse the web. By the Google Translate team.Highlight or right-click on a section of text and click on Translate icon next to it to translate it to your language. Or, to translate the entire page you're visiting, click the translate icon on the browser toolbar.
It is best extension usually when we find a we donot understand we browse in other tab it brings up a list of pages about it or we can simply use google translate.
6)Google Dictionary:
-------------------------
With this extension, you can:
1) Double-click any word to view its definition in a small pop-up bubble.
2) View the complete definition of any word or phrase using the toolbar dictionary.
3) Store a history of words you've looked up, so you can practice them later.
Foreign words are automatically translated to your language of choice.
Supported dictionaries: -
Brazilian Portuguese - Chinese (Simplified) - Chinese (Traditional) - Czech - Dutch - English - French - German - Italian - Japanese - Korean - Russian - Slovak - Spanish
It works same as Google Translator.
7) Google Tone:
--------------------
Broadcast any URL to computers within earshot.Google Tone turns on your computer's microphone (while the extension is on) and uses your computer's speakers to exchange URLs with nearby computers connected to the Internet. You can use Google Tone to send the URL for any web page, including news stories, pictures, documents, blog posts, products, YouTube videos, recipes even search results. Any computer within earshot (including over a phone or Hangout) that also has the Google Tone extension installed and turned ON can receive a Google Tone notification. You need to be logged into your Google account to use Google Tone, and your Google profile name and picture will be displayed with the URL in a Google Tone notification. To receive a URL with Google Tone, Chrome needs to keep your microphone on. Google Tone may not work in loud spaces, over a distance, with a poor Internet connection, or on computers without a microphone or with a microphone incapable of detecting sound broadcast by Google Tone.
To know more about this extension watch this video by
click here
8)Google Similar Pages:
------------------------------
Discover webpages similar to the page you're currently browsing.Discover webpages similar to the page you're currently browsing. Enjoying the page you're looking at and interested in other similar pages? Trying to find more pages about a topic you're researching, but having a hard time coming up with the right query on Google? Google Similar Pages can help! Now you can quickly preview and explore other pages that are similar to the one you are browsing -- on the fly.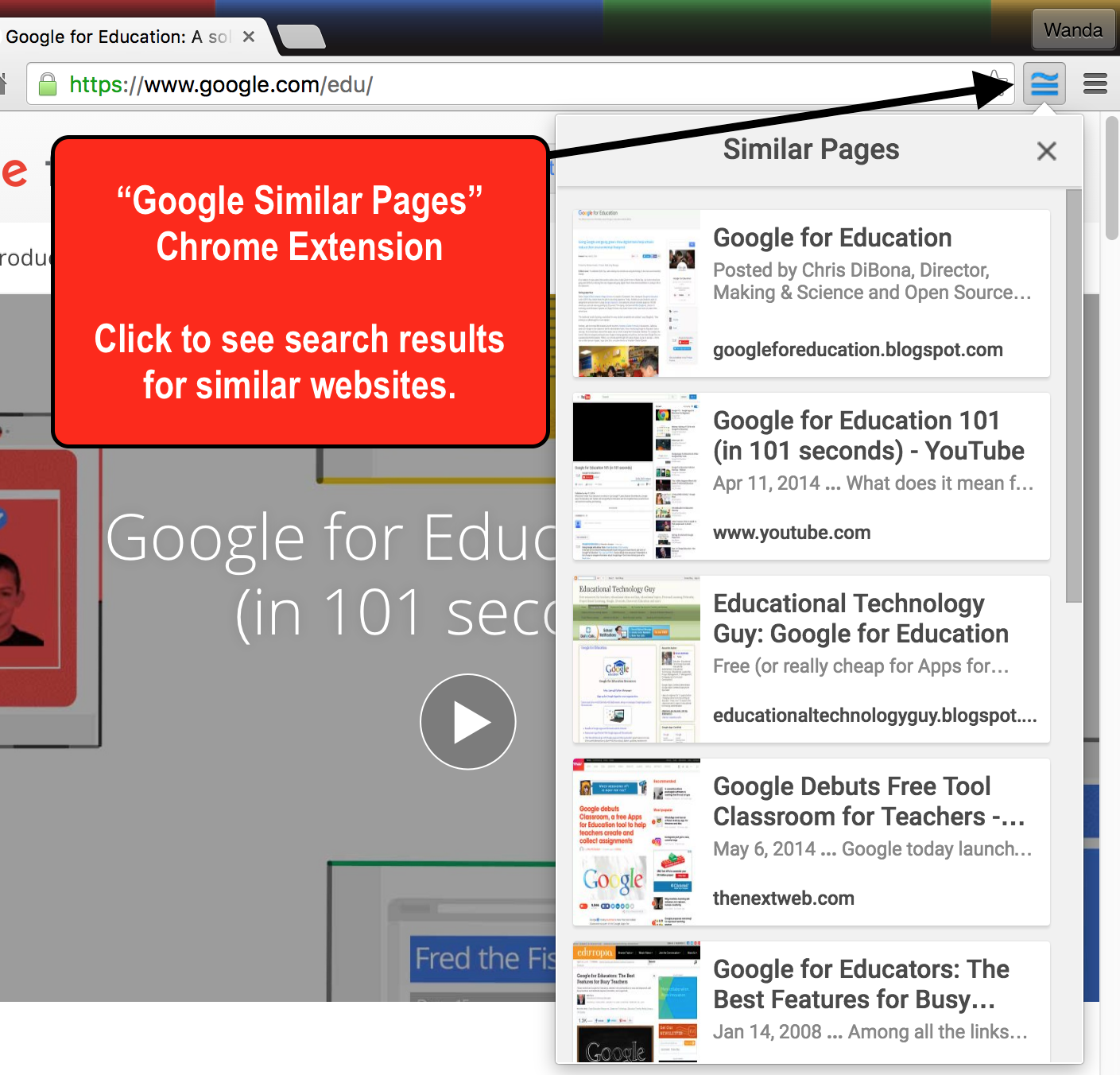 Its basically like when we are in a photography page we can click on extension and it shows all the similar pages regarding photography.
9)Google Keep:
--------------------
Save to Google Keep in a single click!Found a webpage, image, or quote that you want to save for later? With the Google Keep Chrome Extension, easily save the things you care about to Keep and have them synced across all of the platforms that you use — including web, Android, iOS, and Wear. Take notes for additional detail and add labels to quickly categorize your note for later retrieval. Features:
• Save URLs, text, and images
• Take notes on saved content
• Add labels to your notes
• Automatically saves to Google Keep
10)Google Hangouts:
---------------------------
Use Hangouts to keep in touch. Message friends, start free video or voice calls, and hop on a conversation with one person or a group. * Include all your friends with group chats for up to 150 people.
* Say more with photos, videos, maps, emoji, stickers, and animated GIFs. Turn any conversation into a free group video call with up to 10 friends.
* Keep in touch with friends across Android, iOS, and the web, and sync chats across all your devices.
* Message friends anytime, even if they're offline
* Snooze your notifications so you can respond later.
* See what you chatted about in the past, including shared photos and your video call history.
* Keep a record of any conversation for just a short period of time by turning history off.
* Connect your Google Voice account to make calls, send and receive SMS, and access your voicemail.
So, these are the best 10 chrome extensions which i thought are cool by google be sure to mention any other which i did not include .
To know about my recent posts :
• FOG COMPUTING....IS IT BETTER THAN CLOUD..??......
click here
• Difference Between LTE and VoLTE in 4G Spectrum
click here
• LTE stands for .......(know many more most used shortforms in here )
click here
• INTEL,NVIDIA,AMD which produces better graphics??
click here
• Li-Fi is it faster than Wi-Fi ??
click here
• Difference Between 2G,3G,4G,5G Technologies
click here
• CAN YOU LEAVE YOUR MOBILE TO CHARGE OVERNIGHT??
click here
• CONVERT 3G MOBILE TO 4G .....
click here
• DIFFERENCES BETWEEN i3 ,i5 &i7 PROCESSORS.....
click here